MUMBAI: The state cabinet on Wednesday unanimously decided to extend the lockdownlike restrictions in Maharashtra for another fortnight, that is, from May 1 to 15, after the current fortnight of curbs ends at the end of this month. The decision came on a day the state recorded 985 Covid deaths, its highest daily toll since the start of the pandemic.
While public health minister Rajesh Tope said all cabinet ministers were unanimous that the curbs be extended to check the spread of Covid-19, NGOs working for the poor and representatives of the retail sector and restaurants said the restrictions were having a serious adverse impact and they had expected some relief.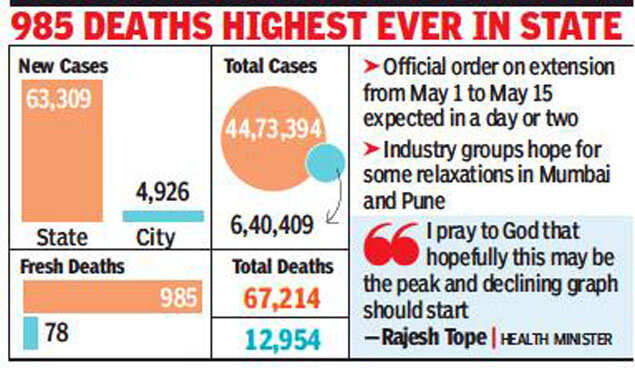 Tope told mediapersons that though the number of daily Covid-19 cases in the state seems to have stabilised to 60,000-odd against the prediction of 70,000-plus cases, "I pray to God that hopefully this may be the peak and declining graph should start." He said all the curbs would be extended for 15 days.
Help informal sector: NGOs to state
The state cabinet on Wednesday unanimously decided to extend the lockdown-like restrictions in Maharashtra for 15 days. The official order on the extension is expected in a day or two, state officials said.
Minister for revenue Balasaheb Thorat also favoured extension of curbs. "To prevent the spread of Covid, lockdown-like restrictions must be extended for the next two weeks," he said.
But groups working with the poor were unhappy and said better relief measures were required. "Informal workers have been the worstaffected. As many do not have ration cards, relief has not reached them," said Ulka Mahajan from Sarvahara Jan Andolan. "Also, the government has offered subsidies to segments of informal workers like construction workers, but many are unregistered and do not have bank accounts," Mahajan added.
"The government needs to set up food kitchens offering ready meals in slums. The free ration scheme and Shiv bhojan thalis are not enough," said Bilal Khan from the Ghar Bachao Ghar Banao Andolan.
Industry groups said they were hoping for some relaxations in Mumbai. Viren Shah from the Federation of Retail Traders Welfare Association said, "We are hoping for some reopening of the retail sector in Mumbai, where cases have gone down, and also for a package for the retail sector." Indian Merchants' Chamber president Rajiv Poddar said, "We can understand the need to extend restrictions since the pandemic is still severe, but perhaps they can increase attendance in private offices to at least 30%."
The restaurant sector will face more closures if restrictions continue for much longer, said Shivanand Shetty, president of the Indian Hotel and Restaurants Association. "Home deliveries of food items are only helping to keep the kitchens open and to offset losses by 15-20%," he said. "Given the high rents, in the absence of a relief package, many restaurants will have no option but to shut down," he said.
Hoteliers and retailers said around of the 35% establishments have not opened since the first lockdown. Now, in the second wave, those owning the premises or those who can afford rent are functioning with just 25% staff for the sake of home deliveries and takeaways, which contribute little to the overall income. "Paying taxes and surviving will be a tough task. If the second lockdown continues for a long time, many businesses will shut. A proactive government decision to support these establishments which employ lakhs of people can help as lockdown is all set to continue for some time," they said.
Sandeep Belsare, president of the Pimpri Chinchwad Small Scale Industries Association, said currently only units manufacturing essential items and their supply chains and export-oriented units are operating. "Around 25-30% cannot operate. The government must remove this distinction and allow all industries to operate. We are taking care of our workers, they are working 12-hour shifts so they are not out roaming, and regular tests are being conducted. We are following all Covid safety protocols," he said.