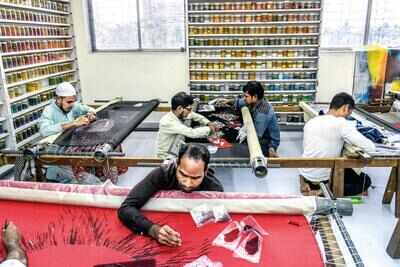 Representative image
Mumbai: Thirty-year-old Samir Shaikh had found work in a denim factory at Vashi just before the second wave of the pandemic. Soon after restrictions were first announced on April 5, it shut. "It was the only stable job I had," said Shaikh who used to work as a waiter at wedding events for a few months each year and then double up as a daily wager on construction sites.
A migrant from Banda in Uttar Pradesh, Shaikh has no savings to return home. "I have not been able to send money home since March. I am coping by borrowing from relatives," says the resident of Mankhurd transit camp.
The restrictions introduced to control the pandemic in endemic states have set off a wave of unemployment and hunger among the poor: A dystopia unfolding alongside desperation for beds, oxygen and Covid-19 fatalities. As shops, markets and restaurants stay closed, the urban unemployment rate in India has been on the upswing. From 7.2% on April 4, it rose to 9% by April 24th, according to CMIE data.
Twenty-four-year-old Shafiq Choudhary who stays in a slum in Mandala, is down to one meal a day. "I have not earned for three weeks. I share food with my neighbours," says Choudhary who hails from Basti district in UP. He is a daily wager who used to lift heavy loads in shops, markets or construction sites.
Like many around him in the M-East Ward—among the most deprived belts in Mumbai—Choudhary does not have a ration card. This makes it difficult for him to access the government's food relief. The MVA government is offering 3 kilos of wheat and 2 kilos of rice free of cost for a month for those holding ration cards under National Food Security Act (NFSA). The Centre has also announced 5kg free wheat and rice for NFSA card holders in May and June.
"Many migrants do not have ration cards. Also, they need cooked meals. Just wheat and rice is not enough. They will still need dal, oil and fuel for cooking," says Umarbhai Shaikh from Ghar Bachao Ghar Banao Andolan. The state has also offered 2 lakh free Shiv Bhojan thalis for the state. "That entire quota can be consumed in Mankhurd alone," says Umarbhai.
This time, the curbs have been more difficult for the poor because the food distribution by NGOs in slums has also dipped.
"Firstly, daily wagers have no savings because they went through a lockdown last year. Also, this year the state does not have relief camps and NGOs have exhausted their funds. Large corporates have opted to donate to the PM Cares Fund or health infrastructure," says Arun Kumar, CEO of Apnalaya which works in Mumbai's slums.
State food and civil supplies secretary Vilas Patil said the portability of ration cards under the One Nation One Ration Card scheme allowed migrants from other states to access grains here. "Over the last year, 3,000 migrants from other states got grains in Maharashtra, And 86 lakh beneficiaries were able to claim their ration from cards within the districts of Maharashtra," he says.
A survey conducted by Apnalaya among 864 households in M-East Ward in December 2020, though, found 25% of the households did not have ration cards. Sixty per cent were daily wagers. "The question is, over the last year, what has the government done to improve their access to social safety nets like ration cards and registration for government schemes?" asks Kumar.
FacebookTwitterLinkedinEMail